Primer UX Usability App Review
Google is perhaps the most polarizing technology company in the market right now. They've single handedly inserted their company name as a synonym for the word 'search' and they've created a bundle of easy to use applications that have millions of users.
Primer, as the name would suggest, is Google's stab at a marketing app that teaches users the industry. It is available through the Apple store for free.
Before opening the app I have high standards that I'll hold for Google. They're a company on the S&P 500 and should produce the highest quality content available on the market. The niche they've put themselves into with this app requires ease of accessibility, rudimentary controls and a mastering of marketing knowledge. Hopefully this all pans out and this becomes a valuable app for the common business man.
Primer doesn't offer a sign-up but rather asks users to link their Google account. This is something most people have and it gives me the idea that there will be some online content available to accompany the content within the app.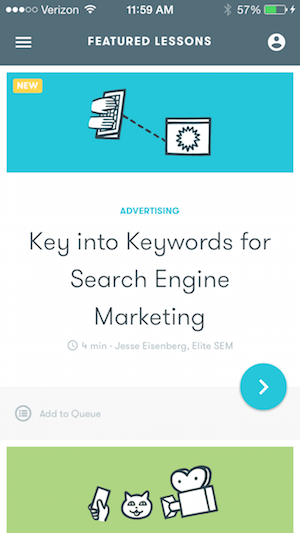 Right off the bat Google tells you what's going on. Their lessons are divided into four sections - advertising, content, measurement and strategy. Each of these hold a specific function in the overall implementation of marketing.
They offer a feed that can be compared to RSS feeds or Facebook news feeds - a scrollable list of content intended to immerse the consumer in the world of marketing. Low and behold, the first one may be the most important for those looking to create customer-grabbing content on their website - SEO optimization.
Google has always been in favor of clean cut copy and an example of that lies within this app. What you're going to do is in big bold letters and there's nothing else taking your attention away. If you try to swipe right instead of up, a small pop-up will appear and tell you what to do. For those on a time crunch, they even give you the amount of time that this lesson should take - for SEO optimization it will be four minutes accompanied by two activities. Primer also has a bar at the top that allows users to see how close they are to finishing their lesson.
Their content is fairly straightforward and simple. As mentioned before, there are no distractions and the perfect amount of content to read on the train or on the walk to work. Their content is valuable in the grand scheme of things because of four key cores they offer - credibility, usability, accessibility and usefulness. They are looking for pageviews and clicks, which means they can really streamline content in a compact and condensed way for the user.
The activities these lessons tote are really just simple Q&A's to make sure the reader is understanding what is going on. Unlike other apps that may have quizzes to see if you're following along, these are simply meant as added means of support. Some of them are interactive as well and provide abundant information based solely off your feedback and input.
A neat feature that Google includes is on their homepage. Clicking your photo on the top right to get to your account will bring up your lesson recaps. This is where, if you've forgotten something you've learned, you can get back to it quickly instead of searching around their database.
Primer seems to have an ample amount of lessons that really stretch across the industry into all the possibilities anyone could have or need when downloading this app. It's an incredibly simple app that is even easier to learn than it is to download.
Google's Primer website remains just a portal to download the app, which is highly encouraging. For an app to be truly valuable and useful, all of its content must be available on the app - otherwise, why create it? Google does this and doesn't hold any premium content on their main website.
Primer is an app made for business owners by Google's own marketing team. Their real goal here is to spread knowledge about marketing that could improve anyone's business. They won't tell you how exactly to get a larger customer base, but they give you the tools to figure it out. This is really all anyone can ask for in an incredibly fast paced, constantly changing marketplace.